I feel like I need to preface this by saying that my husband and I are not yet pregnant – but over the past 6 months we have been discussing "is it time yet?" or when do we start "trying." I think this is a taboo subject for so many people, and it really is something that happens with the Universe's timing – but when you use birth control or other methods I do think that there is some way to exercise control over this.
Being the nerds we are we have done quite a bit of research on making sure both of us (yes the both of us) are primed both mentally and physically for fertility and later becoming parents. I am not writing this like I am any expert on the subject, but I do have some favorite things and suggestions from friends as we move into this next stage of our lives. Recently, I met with both my OBGYN and primary care physician to see if there are any holes in my diet, anything I can be doing to prime my body for a healthy pregnancy and a safe delivery. I mean, we talk about preventative medicine for things like cancer, why not productive medicine to optimize our bodies to do what they are made to do?
This whole idea of sharing this came from my latest read – The Kind Mama which was recommended to me by a very close friend as a bit of a fertility handbook. It's got all kinds of information that people just don't really talk about – but I think is so so important for someone like me transitioning into this life stage. Here are my favorite things I'm learning and the best advice I've gotten so far…
Show them old bones some love & begin to understand how it works.
Yes – that may have kinda been a sex pun (bones! LOL!). But for real. – I think the best advice that I have gotten from a friend is to be at peace with yourself and take care of yourself. Looking good is great, but that is not my main purpose in self care and fitness (in my experience, that is fleeting).
To be a good mother one day I want to make sure that I am doing all I can to have a healthy relationship with my body. I want my future kids to know that I am healthy, and folks – it starts now, no matter your age or the age of your kids. That means not putting myself through the ringer to be a size 2, but learning how to fuel it correctly and have an established workout routine.
So often I talk to women that say they can't workout because they are trying to get pregnant or are pregnant, and that simply isn't true unless your doctor has put you on pelvic rest. If anything, from my research and experience as a wellness coach – it helps your pregnancy journey. You crave junk when your body craves nutrients, and getting that in check with a solid fitness program is a huge part to allowing your body to work. Think of it – labor is literally the amount of strain on your body like running a marathon, you need solid cardiovascular health and a strong core to not just bounce back well postpartum, but also to have a healthy birth. This is the primary motivator for me with my virtual fitness programs, I know if I am in the habit now then baby and me have solid odds to be healthy before and after they make their debut. Bonus – using a home workout program I won't have to put a newborn in daycare or miss my workout because I don't have help. For information on getting involved on this with me, Join an Accountability Group today!
How is your mental health?
This for me has been the hardest to wrap my head around, but also the most rewarding (yes, even more than exercise!). During pregnancy and even trying to get pregnant your stress effects your whole body, male and female. After going through 2 cancer scares in the last 5 years only to find out it was autoimmune issues triggered by stress – I can say that I am truly a believer in the mind body connection. It is so important to feel like you are okay. And it is okay if you are not. And that comes with fueling your mind with positive voices and banishing your inner bully. I started this with personal development, and I have been playing 3 on repeat just to get through my own insecurities around the holidays.
These three also get bonus points because they are all read by the author, and thus they come across very conversational – and VERY funny.
Also, friend, hear me now – it is 100% OK to talk to someone who is a professional as well. I've been seeing a therapist for 18 months now working through my own anxieties, past, and communication style to become the most comfortable version of me, and there is absolutely no shame in that. Especially for me, being the sharer that I am, I think my friends are happy I have someone to talk to about the weird stuff, too. What's nice about mental health becoming so mainstream is that most insurance companies do cover it (I have Blue Cross/Blue Shield). You can search for someone in your area and their specialties – including if they accept your insurance on Psychology Today.
Consistently take your vitamins.
Be sure your vitamins are in balance, ideally at least 3 months prior to conception. This 3 month rule was something new to me – expectant mommas are all recommended to take a prenatal vitamin to help with fetal development, but what I didn't know is that you need to take it at least 3 months prior to conception for maximum effects because it heightens your levels within your own body leading to a healthier pregnancy.
My daily nutrition shake contains (so they say) all the necessary multivitamins that you need and I, the forever skeptic, took this to my doctors to confirm that and was pleasantly surprised that I already am getting all I need vitamin-wise to live healthy on my own, and from a pregnancy standpoint I only need to add one supplement – folic acid. Folic Acid promotes healthy brain development and focus and is found in leafy greens and citrus naturally – and is added to many nutritionally fortified grains (like the super pasta you see at the market or cereal) but you can never really have enough of the stuff. Between drinking my daily shake I've introduced a folic acid supplement and also take vitamin C with rose hips during flu season since I work with kids. It was definitely a relief to only have to add one pill to my day after drinking my superfoods each day – my wallet was pretty happy too.
Take the trip.
Hubs and I want to have no regrets when we have kids, we want things to start off wonderfully (I mean doesn't everyone want that?) But waiting for things to be perfect is a bit unrealistic. Instead – our plan is to dream together to take one last adventure, as a symbol to us moving from one life phase to another. Now don't get me wrong, we ABSOLUTELY will not stop traveling, but some trips are just easier when you don't have little ones. Think Napa, Thailand – or for us, New Zealand. Bungee jumping – not gonna like I'm much more stoked to do it knowing I don't have so much of that whole responsibility thing just yet.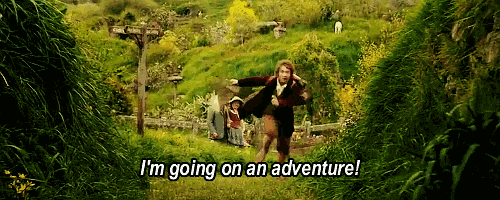 Embrace the Journey.
As someone who works from home with the majority of her friends and peers having children – I can tell you that every single person has given me this advice. Don't stress about it, and enjoy the process and trying. I mean – it is something created for pleasure, right? Our bodies are unique, unpredictable, and we have to try to make them the best they can be and love ourselves in the process.
This post contains an affiliate link to purchase a book I have recommended. I am not sponsored by this book, however I am an amazon associate meaning that products I recommend to people I can share shopping links to where I will receive a small kickback should someone purchase. Many bloggers do this as a way to make an income while sharing our stories, so if you would purchase something I recommend – or any blogger at that, use the links from our sites and help us out.